About the Treatment : It is a process of purifying the whole body to attain proper balance ofvatha, pitha and kapha based on the panchkarma and swethakarma treatment. The process include body massage, snehapanam, nasyam, virechanam(medicated purgative), snehavasthi, dhara, pizhichil, njavarakizhi, karnapooranam, tharpanam, sirovasthi, steam bath, Herbal drinks and internal herbal medicines.

About Somatheeram Resort : Somatheeram, with its enchanting beautiful, serene, virgin beach that stretches on and on, is undoubtedly the place for a unique experience. And our varied, exclusive resort facilities will even provide you with courses and seminars on Indian dance, music, philosophy, literature, meditation and yoga. Well connected by air, sea, road and rail, we're within easy reach from anywhere in the world. Escape from the fast pace and hectic schedules of your life, for a complete, rejuvenating holiday


With exclusive facilities to tone up your mind, body and soul. And plenty of exquisite tour opportunities. Rich with tradition, culture and overwhelming natural splendor. The perfect location for the perfect holiday resort.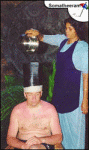 Somatheeram Ayurvedic Beach Resort is the first of its kind for holidayers to combine the threesome; a Beach Resort with Ayurveda and Yoga. Somatheeram, sitting atop a hill spreads over an area of 15 acres of lush greenery. Its accommodations are widely scattered down the contoured hills amongst the verdant coconut groves and other naturally preserved plants.
Facilities :
Doctor on call, Money changer, Laundry service, Room service, Ayurvedic treatment center, Yoga & meditation programmes, Cultural show, Travel assistance, Sight-seeing & package Tours arranged on request, Taxi service, Pickup from Trivandrum Airport, Welcome drinks