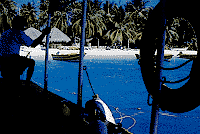 Just off the coast of Kerala are a widely scattered group of coral islands – 36 of them – collectively known as Lakshadweep. They form part of the Union of India and are one of the country's newest tourist destinations. Ten of the islands are inhabited by simple, peace-loving folk whose language is close to that spoken in Kerala. The islanders have lifestyles and occupations that revolve around coconut cultivation, coir matting and fishing. Even today, nothing is actually produced in the islands themselves, and everything comes from the 'mainland', as India is somewhat quaintly referred to there.
Tourism's major focus is on water sports, as each of the islands are surrounded by a coral reef providing large areas of crystal clear water for everything from snorkeling to wind surfing. The five islands which are open to tourists have simple accommodation in the shape of beach cottages. Permits to visit Lakshadweep can be obtained from the Lakshadweep tourist office in Cochin. Regular flights operate from Cochin to one of the islands, as well as modestly priced ship cruises which stop at all the islands open to tourism. These cruises begin and end at Cochin
While equipment for water sports is available at the islands themselves, not much in the way of shopping and entertainment is possible as yet. Lakshadweep is the perfect holiday for those who want to get away from the artifices of the world and enjoy a few days in simple yet stunningly beautiful surroundings.